2 Stocks With Recent Pullbacks Argus Research Says Are Now A Buy
Analysts at Argus Research identified in a research report two stocks that could be attractive for investors after under-performing the market.
Colfax
Over the past quarter, shares of Colfax Corp (NYSE: CFX) have fallen 2.5 percent while the S&P 500 index gained 1.2 percent, Argus' John Eade commented in a research report. In fact, the company has come under pressure in recent quarters due to weak earnings reports, unfavorable exposure to the energy and mining sector, and currency headwinds.
But the company has now reached an "inflection point" as its margins are showing signs of rising and orders from customers are improving, the analyst added. Specifically, the company's focus on power generation, energy, and infrastructure is expected to play a role in President Donald Trump's infrastructure spending bill.
Over the longer term, Colfax will remain an emerging leader in the industrial sector and its history of growing through M&A will likely continue, Eade added. The company's margins are also expected to improve and sales growth could come as soon as 2018.
Finally, despite outperforming the market since the start of 2017 the stock is still lower by more than 45 percent from its all-time highs in 2014. However, recent momentum in orders and near-term catalysts could generate earnings per share surprises and upside to the stock.
Eade maintains a Buy rating on Colfax's stock with an unchanged $50 price target.
A breakout is possible. And a tiny upside potential still holds.
$CFX
, Colfax Corporation / H4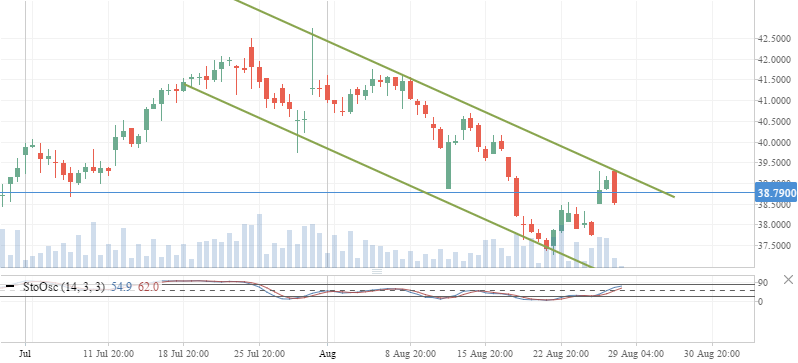 Stryker
Stryker Corporation (NYSE: SYK)'s stock fell nearly 5 percent on Aug. 23 as investors were troubled with the company's recall announcement, Argus' David Toung noted in a separate research report. But investors may want to consider taking advantage of the selloff as it represents a "favorable investment opportunity."
Stryker recalled certain batches of oral care products from its Sage Products business but these items were manufactured by a third party, Toung stated. Stryker has now moved the production of these products in-house, and the company is unaware of any serious adverse events stemming from the recalled products.
Nevertheless, the recall will lower Stryker's revenue by $7 to $14 million and lower its earnings per share by five cents to as much as 10 cents, the analyst stated. However, the recall won't have any impact on its core product lines including orthopedics, medsurg and neurovascular products.
Looking forward to the rest of the year, Stryker's performance will be driven by the broader expansion of its Mako robotic surgical system which "has the potential to be a game-changer" and help the company gain market share.
Toung maintains a Buy rating on Stryker's stock with an unchanged $160 price target.
There is still some upside potential due to stochastics. Shares will likely go up and try to close the gap.
$SYK
, Stryker Corporation / H4